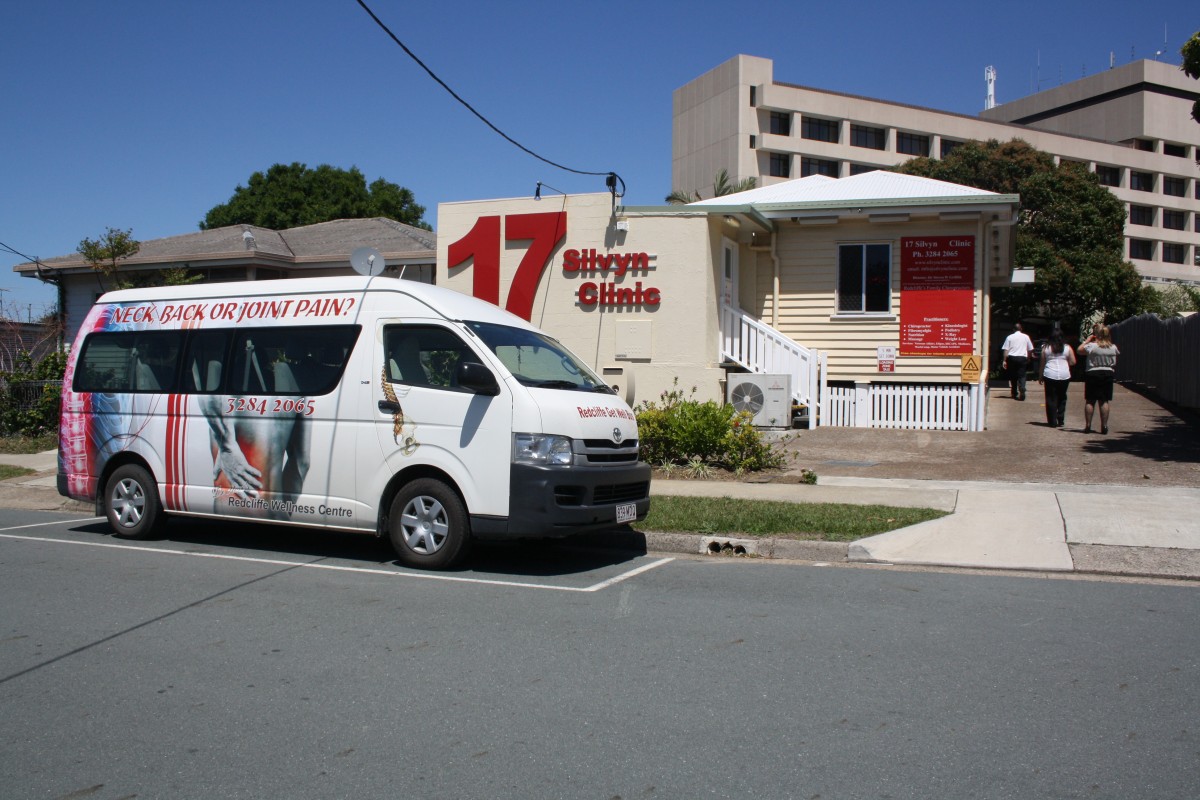 What Makes Us Different
At Redcliffe Family Chiropractor, we offer a wide range of services:
The big one is advice, with 31 years in practice and various studies in health care people can get lots of advice from Dr Steve on how you can manage your own problems and self help, from remedies to diet, things that will make it worse to things that make it better, he has lots of stories on success and failure patients have tried, handouts, books to read, emails newsletters and offers talks to groups on one specific issue.

adjustment techniques tailored to all patient comfort levels and quick to modify procedures to expectations by patient and clinician.

Chiropractors like to call their visit an adjustment, we like to adjust your body, adjust your health, adjust your well-being, adjust your way of doing things, an adjustment is changing something slightly to make things better without manipulating them past their own personal comfort zone.

Our Wellness goal is to reduce or eliminate your need for drugs, alcohol, cigarettes and junk food to get thru a day, to live a pain decreasing life style.

We work to get people better than their best, which leads to

We develop individual treatment options or self care, especially modifying a technique, or not using procedures the individual patient is not comfortable with.

We offer care to patients who want better from their body, we work in with your gym instructors, physical trainers, masseuse, therapists, physio's and MD's as much as you want us to.

We accept same day appointments for your problems, whether they are Acute meaning recent onset, occasional like ache / pain / stiffness, a twinge, or spasm come cramp through to the complex problems and sever intensity.

In our procedure we offer same day re-checks complimentary on the day of your treatment, example you get an adjustment and later in the day step off a gutter or push a three wheeled trolley at the supermarket and something goes wrong – you can pop back in to get checked and re-adjusted if necessary.

We regularly use "diversified" techniques which are among the most popular and recognizable chiropractic treatments.

We offer high speed high velocity adjustments that can make noises or sounds and involve a thrust into the joint or tissue, this has been popular with patients

Plus Drop Piece, Toggle Recoil and procedures using the hydraulic tables and the use of mechanical assisted techniques, these are useful for people who have difficulty turning on the adjustment table, are unable to lay on their side or have a lot of restrictions

Sports Therapies from his studies for the Diploma of Football Medicine thru FIFA use the newer European Gold Standards and the lesser Australian Sports Institute Standards for treatment of sports injuries

For spinal cord problems he uses upper cervical specific and the latest concussion protocols (FIFA 2016) and cranio-cervical whiplash (2017) New York Brain Symposium

For those who desire an extra-gentle approach, Dr. Griffith also uses the Impulse and Activator & SOT, unique instruments that provides a less forceful adjustment to improve  bio-mechanical function or movement and ease nerve interference with literally no twisting or "popping" of the joints.

Our practice also offers one of the most advanced tools for non-surgical treatment and non-chiropractic of things called or suspected spinal disc herniation and disc compression, the RenuvaDisc Decompression Traction System. This state-of-the-art technology offers an extremely comfortable way to alleviate disc problems that would otherwise be recommended to have surgery.

For soft tissue pain and swollen areas like swollen knees and feet he uses a mix of procedures for lymphatic drainage, scar tissue therapy and gentle release procedures to get the joint to carry weight with improved movement and less swelling and tenderness.

In July 2017 after years of concerns by patients with unresolved skin issues, we were urged to do something about the growth of skin changes and weird things we see on the skin at Redcliffe and western Queensland clinics not resolving, non cancerous, we recommenced updating our knowledge base on dermatological (skin) rashes, focusing on conservative natural treatments and home based care for elderly, home based disabled, rural and remote indigenous and fair skinned elderly. working thru workshop notes and texts from "DermNet New Zealand"; and our long standing interest in Parasite, Yeast, Fungus and Mould on the skin. Dr Steve was examined and tutored by Melbourne University Pathology to teach Tropical and Infectious Skin diseases and parisitology. While he was assisting in human dissection for the Pathologists for the Coroner – another of his many stories. We now give recommendations of natural remedies to relieve some skin ailments from fungi, yeasts and moulds. And we are using the protocols from "The Wrestling Federation" of USA recommendations

We can take our own in house x-rays of odd pain or symptom created at odd angles in the spine from neck to  coccyx, however all regular x-rays we refer to Radiology in this Street or next door at Redcliffe Hospital.

And don't forget Dr Steve has volunteered in so many services he has a host of stories from the amazing to the ingenious.
Dr Steve's observation is about developing a healthy discussion of your body. 
'here go's':- 
A lot of people have the right idea when it comes to health and their doctor or Chiropractor.
Is Chiropractic just for my neck and back?  –  It is for your  nervous system. We work to make it work better
It may be natural to associate chiropractic and back care; there is also a multitude of other health concerns that may be helped through manual care, physical therapies and other procedures that chiropractors use. Turning your brain on to heal your body thru a better functioning nervous system is one I support. Their is a lot of published studies and books on Chiropractic helping people suffering. Sadly Chiropractors don't have access to government research funding for Australia's biggest ailments, being back pain, neck pain and headache. 
In July 2017 the AMA Journal,
main concern of chiropractors research gave the thumbs up for chiropractic care found the better results came from chiropractic treatment of low back pain in an acute to sub acute phase, better than all medical procedures from rest, ice, drugs, NSAIDS, pain killers over the counter and surgical procedures and injection local and radio-logically controlled.
There are however on a low level or poor quality of research that showed some people had indirect changes during chiropractic care for a musculo-skeletal condition had reported beneficial changes: However asthma reduced intake need for Ventolin in the Redcliffe Hospital (next door) 20 year assessment children with thoracic compression's taught in chiropractic schools improved versus no thoracic compression's measuring better, neutral or worse, my son was in the group that got worse:(
Hospitals can use chiropractic techniques for Asthma but chiropractors cannot claim it has benefit or use for Asthma according to our regulators!
A lot of Chiropractic Techniques invented by chiropractors that are restricted or discouraged as non-scientific by the critics of regulators are now used by others such as Bowen, Kinesiology, NOT, NET by stand alone practitioners. And all the Stoddard (circa 1942 onward) Thoracic techniques are now used in Hospitals in Rehabilitation e.g. next door is a chiropractic poster used in the therapy area for chest clearances and asthmatics, yet chiropractors cannot claim to treat asthmatics yet chiropractic procedures is a mainstay of hospitals which are regulated by the State not APRA. Odd world when you cannot profess what you do, but others who are more legitimate can use originating techniques from chiropractic in hospitals. "At least some kids get some help with chiropractic procedures". In Queensland chiropractors cannot treat in hospitals, and if insistent must get written permission from the department per visit per patient – remote possibility I think.
weight loss in people with long term back pain (which is more thru positive outcomes in ability to move with less or no pain and hence exercise/walk, the Journal of Epidimiology's continuous study of saturated fats consumed to reduce inflammation of non ambulant pain obese patients, which patients had no benefit from NSAID's versus improvement with mobilizations),
Heart issues like angina pectoris 1/3 chance of deteriorating @ this is the big Scandinavian Norwegian government study that led to chiropractors working in teams of three in cardiac wards of hospitals after double blind trials were randomly given in hospitals of over a thousand variable treatments, identifying two stand out improvement to zero deaths:- which are chiropractic thoracic adjustments and tai chi
digestive issues like bloating with pain in patients with back pain at Miami University Graduate School of Medicine and functional Sciences trials of placebo treatments in surgery and CAM (2010) oddly showed chiropractic care exceeded placebo each time, over SHAM and cross over trials; 
The same University thru its State directed trials for addiction treatment protocols found in multiple blinded variable protocols blinded from examiners:- chiropractors exceeded or equaled  the best practice standards, SHAM & Placebo, so chiropractors could now be involved with State sponsored addiction Therapies. The biggest winner for chiropractic came from the Betty Ford Institute for addictions has incorporated chiropractic care into its regime over a long time.
painful arthritis in fingers and toes abating to a degree to do home based self care pain free, we used mobilization techniques in Stoddard's Book, this one I participated in and while lengthy in time developed a lot of relief on movement, non randomized trial run by NT Health & Community Services, resulted in chiropractors being invited to give care to remote areas albeit voluntarily.
Their are reasonable research and data studies on chiropractic for migraines & headaches reduction in intensity and or frequency, this would be the third largest base of the public to seek care of chiropractors to reduce their medication
There is newer evidence based clinical studies from the New York Brain Symposium where Medical Doctors, researchers and chiropractors have shown changes in 2017 for Brain stem injuries, Concussion type problems, Cranio Cervical Syndrome Complexes (weird sensations and pressure headaches) following on from the 2016 $8 Billion Court directed studies into successful treatment of Concussion of US professional footballers: see Sports Illustrated on Chiropractic for the best footballer ever recovering
 
New changes 2016 found in elderly falls improving have been shown thru ASRF in NZ, this is a long term working group to arrest the national taskforce on ageing who cited this study as a step forward for the aging population, it is cited one in 6 elderly have falls detrimental to a loss of health, movement and new pains, and less ambulation, the Minister for the Aging has asked this be a priority in aged studies and welcomes chiropractors contribution, but wants more done.
After 31 years I'm always surprised we help more and more people with complex problems??
You should be glad chiropractic can help you as chiropractic is diversified enough to adopt to most human body types and variable configuration,  chiropractic care is really about improving the nervous system control of your body at an individual level, and your nervous system controls everything in your body from your brain!
Chiropractic care at this clinic helps to remove interference in your body that is causing these symptoms and signs. These symptoms are there for a reason. They're there to warn you of your problems you might not be able to see. Less interference=better body!!
Whatever you do don't wait around and let things get worse. Make sure you make an appointment to get checked this week!!
"The most recent research (Neck Pain Task Force Report of the Bone and Joint Decade 2000-2010, a study sanctioned by the United Nations and the World Health Organization)
indicates neck manipulation is a safe and effective form of health care," according to Matt Pagano, DC, chiropractic profession spokesperson. Topic on safety of chiropractic on neck treatments the cornerstone of Chiropractic for 120+ years
Respected researcher and epidemiologist J. David Cassidy, DC, PhD, DrMedSc, testified as a key witness at the hearings on informed consent before the Connecticut Board of Chiropractic Examiners in Hartford, Conn. Speaking as an expert witness and consultant to the International Chiropractors Association (ICA)—and with the support of all chiropractic organizations involved in the process, including the American Chiropractic Association, Association of Chiropractic Colleges, Foundation for Chiropractic Progress, Life West, New York College of Chiropractic, Parker College of Chiropractic, Palmer College of Chiropractic, and the University of Bridgeport College of Chiropractic—Dr. Cassidy addressed key facts and issues on the basis of the existing science and research record, to which he has been a significant contributor. The objective of his testimony was to bring the discussion from an emotional issue back to science and the objective research record.
Dr. Cassidy joined an extensive list of witnesses representing the chiropractic profession, including William J. Lauretti, DC; James J. Lehman, DC, MBA; J. Clay McDonald, DC, JD, MBA; Gerard W. Clum, DC; Stephen M. Perle, DC, MS; Gina Carucci, DC, MS, DICCP, who appeared on behalf of the Connecticut Chiropractic Association (CCA); and George Curry, DC, FICA, who appeared on behalf of the Connecticut Chiropractic Council (CCC).
"The chiropractic profession unequivocally supports a patient's right to be informed of the material benefits and risks of any type of health care treatment – not just chiropractic. Legislation or regulatory mandates governing informed consent should apply to all health care providers and all treatments in equal measure. However, a new law, regulation or mandate highlighting one specific treatment by a specific health care profession, which carries with it an extremely rare association and no causal link identified in the research, is simply not good public health policy. It would set an unnecessary precedent for all health care providers, procedures and products that would be virtually impossible to implement," said Pagano.
The existing informed consent standards in Connecticut allow for the best opportunity for shared decision making between a patient and his or her health care provider. Further, the chiropractic organizations participating in the hearing process all believe informed consent is more than a piece of paper; it is a process. It should occur in the context of a discussion between a doctor and a patient, and it should be appropriately documented.
In a finding highly relevant to the issue before the Connecticut Board of Chiropractic Examiners, the Neck Pain Task Force study demonstrated that patients suffering from headache and neck pain are no more likely to suffer from a stroke following a visit to a chiropractor than they are after a visit to a family medical physician. This implies that there are factors involved other than the type of care provided by doctors of chiropractic. It's important to note that millions of patients safely benefit from chiropractic care every year—they are able to return to their normal activities and enjoy a better quality of life.
Dr. Cassidy was an investigator with the Bone and Joint Decade 2000-2010 Task Force on Neck Pain and Its Associated Disorders. The work of this international task force affirms the safety and benefits of chiropractic care for people with neck pain—a condition frequently treated by doctors of chiropractic. The Task Force initiated this new population-based, case-control and case-crossover study, which appeared in the Feb. 15, 2008 edition of the journal Spine.
The study, which analyzed nine years' worth of data from a population of 110-million person years, concluded that vertebrobasilar artery (VBA) stroke is a very rare event and that the risk of VBA stroke following a visit to a chiropractor's office appears to be no different than the risk of VBA stroke following a visit to the office of a primary care medical physician (PCP). 
 
The study goes on to say that any observed association between VBA stroke and chiropractic manipulation—as well as its apparent association with PCP visits—is likely due to patients with an undiagnosed vertebral artery dissection seeking care for neck pain and headache prior to their stroke.
Over the years, popular media has all too often sensationalized the association between chiropractic cervical manipulation and cerebral vascular accidents—even though the evidence would strongly indicate that this assertion is incorrect. The organizations representing the chiropractic profession believe this most recent evidence should help to dispel any myths on this issue, as well as provide more data to support the safety and effectiveness of chiropractic procedures.
As a profession, doctors of chiropractic remain committed to expanding the research and clinical understanding of VBA injuries, because even one cerebral vascular incident that could have been prevented or detected early is one too many.
Primary School Pain: The future is Chiropractic in Schools freely offered as a trial
In 2014 Queensland Education with a cross over trial with Dept of Health found, 1 in 7 girls daily get headaches and 1 in 7 boys get low back pain on any day surveyed in QLD State Primary Schools, while 1 in 33 had seen a chiropractor. Self medication by parents was the reported treatment. Other oddities: Also 1 in 3 had not had lunch, 1 in 3 had not had breakfast, and 1 in 7 had had sex at least once with an adult while at primary school. Qld Parliamentary Tables Report 2013 Annexes and Appendices. We discussed this at parliamentary meetings face to face, no politician had any idea what to do other than monitor and report to inter-government agencies.
In 2017 our church through "Tuckerbox Ministries" and Redcliffe Community Groups instigated breakfast for homeless I was a volunteer first breakfast and we are now spreading to local school kids who are hungry!